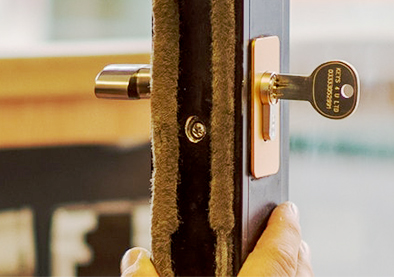 Every household or business establishment needs the number of a reliable Birmingham locksmith that they can call at any time. Contrary to many people's expectations, locksmiths don't just unlock doors for you. Locksmith companies can do so much more, especially if you choose a reputable company like Keys4U Locksmith. We offer a wide range of top quality services, so there are plenty of reasons to hire our experts.
Here are just some of the things that our professional locksmiths can do for you:
Access Control
Regardless of whether your home or place of business contains a lot of valuables, controlling the level of access anybody has to your premises can dictate how safe it is. This is something that a security expert or a locksmith in Birmingham can assist with.
Whether you want magnetic door locks, GSM door entry systems, intercom systems, or any other security solution, our team here at Keys4U Locksmith can assess your current set-up and suggest options to upgrade the protection offered to your home or workplace.
Door Services
Your door controls access to your property. No matter how sophisticated your other security measures are, a poorly installed door, gate, shutter, or security grill can jeopardise your safety and security.
A team of expert locksmiths in the B4 6AF area like ours will not only open locked doors for you. We can also install different types of doors, shutters, grills, and other entry points. We can even help repair any door that may have suffered damage in the past and make sure it's protected against unwelcome intruders in the future.
Safes
When it comes to safes, our locksmiths are the best for the job. We offer a wide variety of safes and can install, remove, or open any safe for you. Knowing that your safe contains some of your most valuable assets, our trained experts here at Keys4U Locksmith will guarantee a job well done to keep your belongings as secure as possible.
CCTV Systems
One of the best ways to keep your premises secure is to keep a close watch on anything that goes on within or outside your property. With the right CCTV system in place, you can keep a close eye on everything that's happening in and around your building, no matter what time of the day or night.
Whether you need an indoor or outdoor CCTV system, or if you're looking for wireless or HD options, our locksmiths in Birmingham can handle the installation expertly. We can even offer expert recommendations on the type of system that will work best for you, based on your specific needs.
Alarm Systems
Of course, no security system is complete without an alarm system in place. Burglar alarm systems, wireless alarms, or home alarm systems – our 24-hour locksmiths in Birmingham can install any option for you. Ask for a free security assessment and we'll go over the options with you.
So, don't just think about hiring Birmingham locksmiths to open a locked door. There are a host of other good reasons to use our services. All you need to do is call 033 3305 2993 or fill in the contact form on our website, and we'll be happy to help you out with any of your security concerns.
BIRMINGHAM AREAS COVERED
Acocks Green
All Saints
Alum Rock
Aston
Bearwood
Billesley Common
Billesley
Birches Green
Birchfield
Bordesley Green
Bournbrook
Bournville
Brandwood End
Bromford
Brookfields
Buckland End
California
Castle Vale
Chelmsley Wood
Chester Road
Colehall
Cotteridge
Deritend
Edgbaston
Erdington
Fordbridge
Gib Heath
Gilberstone
Glebe Farm
Grarvely Hill
Greet
Griffins Hill
Hall Green
Handsworh Wood
Harborne
Hay Mills
Highter's Heath
Hockley
Hodgehill
Holly Hill
King's Norton
Kingshurst
Kitt's Green
Ladywood
Lea Hall
Leebank
Lodge Hill
Longbridge
Lozells
Marston Green
Moor Green
Nechells Green
Nechells
Newtown
Northfield
Old Oscott
Oscott
Perry Barr
Perry Beeches
Perry
Queslett
Rednal Hill
Rednal
Ridgacre
Rotton Park
Rubery Hill
Rubery
Saltley
Selly Park
Shard End
Sheldon
Shenly Fields
Short Heath
Small Heath
Sparkbrook
Sparkhill
Spring Vale
Springfield
Stechford
Stirchley
Stockfield
Stockland Green
Ten Acres
Tile Cross
Tower Hill
Tyburn
Tyseley
Upper Witton
Wake Green
Ward End
Warstock
Washwood Heath
Weoley Castle
West Heath
Winson Green
Witton
Woodsgate
Yardley Fields
Yardley Wood
Yardley
BIRMINGHAM POSTCODES COVERED
B66 4
B68 0
B68 9
B66 1
B71 3
B45 9
B45 8
B76 1
B76 2
B76 9
B5 4
B5 5
B5 6
B9 5
B12 0
B1 2
B2 4
B2 5
B3 2
B3 3
B9 4
B11 1
B1 1
B10 0
B10 9
B3 1
B4 6
B6 4
B6 5
B6 6
B18 4
B18 6
B18 7
B19 1
B19 2
B20 2
B20 3
B21 0
B21 8
B21 9
B32 1
B62 0
B29 5
B31 1
B31 5
B32 2
B32 3
B32 4
B16 9
B17 8
B11 2
B15 1
B25 8
B13 0
B14 4
B14 5
B28 0
B28 9
B47 5
B90 1
B92 7
B14 6
B27 6
B27 7
B28 8
B38 0
B90 2
B90 3
B29 4
B29 7
B5 7
B12 8
B11 3
B11 4
B12 9
B15 3
B17 9
B16 0
B16 8
B67 5
B71 4
B26 3
B33 8
B33 9
B34 7
B36 0
B36 9
B37 6
B40 1
B35 6
B26 1
B26 2
B35 7
B33 0
B34 6
B37 5
B37 7
B66 2
B31 2
B45 0
B13 8
B13 9
B14 7
B15 2
B17 0
B29 6
B30 1
B30 2
B30 3
B4 7
B7 4
B24 8
B8 1
B6 7
B7 5
B8 2
B8 3
B23 6
B23 7
B24 0
B24 9
B36 8
B18 5
B19 3
B1 3
B31 3
B31 4
B38 8
B38 9
B20 1
B23 5
B43 5
B43 7
B42 1
B42 2
B43 6
B44 0
B44 8
B44 9
B72 1
B73 5
B73 6
AREAS COVERED NEIGHBOURING BIRMINGHAM
Barnt Green
Bickenhill
Halesowen
Hollywood
Hopwood
Kendal End
Lickey
Oldbury
Pheasey
Royal Sutton Coldfield
Smethwick
Solihull
Streetly
Water Orton
West Bromwich

Finding The Right Locksmith
To ensure the best quality service from the locksmith you're hiring, you need to choose the company carefully. Consider the options and find one who's the best fit for your needs.
Do you need simple door key services in Birmingham or something more specialised?
Do you need an emergency locksmith in Birmingham to provide fast, effective services in a crisis?
No matter what services you require, the professionals at Keys4U Locksmith won't disappoint.
What To Look For In A Birmingham Locksmith
A professional locksmith offers a variety of services. As well as key and lock services, some also supply and fit commercial alarm systems, smart home security, and safe installation services in Birmingham.
It's a job requiring reliability and trustworthiness, so all locksmiths must meet certain standards to be considered an expert in their trade. Here are some requirements:
Academic and professional qualifications.
Experience.
Skills and expertise.
Availability around the clock.
Compliance with the law.
Reasonable pricing.
If you've been searching for the best "locksmith near me Birmingham", you've come to the right place. You can rest assured that our technicians at Keys4U Locksmith meet all the requirements on this list as standard. Give us a call today!
Top Tips For Protecting Your Home
With more than half a million cases of burglary reported in the UK in 2018, it's only natural that demand for smart lock installation services in Birmingham and other security solutions has shot up. If you're looking to boost your home's security, here are four great tips:
Request an assessment of your existing security measures.
Ask your locksmith to upgrade the locks in your home.
Ask whether your security products at home meet the relevant standards.
Take security seriously.
Security should be a priority both at home and at your workplace, and if you need assistance, you can do no better than to work with our specialists at Keys4U Locksmith.
With our high-quality and affordable security products, our professional door lock repair services in Birmingham, and more, you can't go wrong. Check out our offers today.
BIRMINGHAM LOCAL AUTHORITIES
BIRMINGHAM TRANSPORT LINKS
Birmingham New Street Railway Station
Birmingham New Street Railway Station is the central hub of the British railway system. It is the largest and busiest of the three primary railway stations in Birmingham city centre and serves as a major destination for local and suburban services in the West Midlands, as well as Avanti West Coast services.
Birmingham Airport
Birmingham Airport is located 10.2 kilometres from Birmingham's city centre. The airport is in the Metropolitan Borough of Solihull, near Junction 6 of the M43 motorway, and is mainly served by the A45 main road. It is considered the seventh busiest airport in the United Kingdom, having served a record 12.9 million passengers in 2017.
Birmingham Coach Station
Birmingham Coach Station is one of the main coach interchanges in Digbeth, Birmingham, England. It offers trips to various destinations throughout Great Britain, as well as services to Dublin and Belfast. The national headquarters of National Express, the largest scheduled coach service provider in all of Europe, can also be found here.
Keys4U Locksmith Birmingham
35 Bull Street
Birmingham
B4 6AF
01216673772
info@keys4ulocksmith.co.uk