Your Local Emergency Croydon Locksmiths
Locked out? need a lock change? is it an emergency? we operate 24 hour day and night. Croydon locksmith - 30 minutes response time!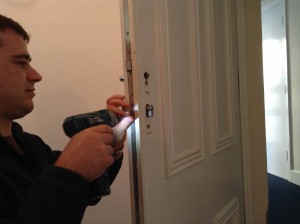 With over many years of experience, Keys4U has been providing local Croydon locksmith services, emergency 24 hour basis or by appointment. Whenever you get locked out of the premises, have locks jammed, in need of repairs or lock change, our team of highly skilled locksmiths will be able to help. Simply contact us by phone for a free quote and advice. We are able to unlock any type of door with out leaving any damage.
We provide full support for locks supplied and fitted to British Standards-3621, along with a full inventory of keys available to be cut on site. In cases of fresh door lock installation, you may choose the best lock to suit your budget and level of security. We can install just about any type of lock available - from regular night latches, thumb turn locks, mortice locks, dead bolts - to the high security Mul-T-locks.


Lock repairs and fitting in Croydon. 6 month proficient guarantee!
The KEYS4U emergency locksmiths are the best choice due fast response times, reliable craftsmanship and affordable prices. We take pride in excellence and provide 6 month guarantee to any lock replacement job carried out. There is no need to pay double the price by going to nation-wide locksmithing companies which needlessly charge for services you do not need. You can trust our 24 hour availability for all Croydon locksmith emergencies. Simply call now for a no obligation free quote, arrange a visit or request a call back at your convenience.
Our locksmith specialists will get in touch and provide you with the job details, time to completion and price estimates. Over the years we have serviced a wide range of locksmith emergencies all over Croydon and the surrounding area, from jammed locks, key duplication, lock repairs and fitting, opening locked vintage boxes, door lock replacement or getting locked out of your property. KEYS4U are simply the best emergency locksmiths in Croydon, also performing security system installs from CCTV to alarm systems.


About locksmiths Croydon
Croydon, CR0 is a large metropolitan centre 9 miles south of the City of London, formerly part of the County of Surrey. KEYS4U see supporting locksmith emergencies in Croydon as both challenging and rewarding. You can rely on us to perform the highest quality of service at affordable prices regardless the type of your issues.