Smart Lock Installation
Lock your doors with just a touch of a button! We offer smart lock installation with all the latest smart door locks.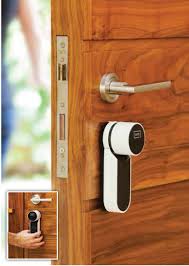 Keyless entry means that many can be used with a touchpad or your smartphone and save you the hassle of having to deal with lost keys, changing locks and enable you to be able to lock the house remotely in the event that you forgot to lock behind you. You can even provide temporary code locks to allow friends, relatives or cleaners in whilst you are away.
Secure your home with smart locks – offering a convenient & comfortable alternative to traditional keys.
Home smart locks can be great for granting temporary access for cleaners and family members when you are away from home.
Smart door locks are usually compatible with all different door types and installation is usually straight-forward. Most smart locks are made to work with all existing cylinders and deadbolts, so that very little has to be done to the existing lock in order for it to work. Having said that, some work only with deadbolts and some are not compatible with some mortice, rim cylinder locks or deadbolts.
See how easily our locksmiths can install a Yale Conexis smart lock into a UPVC door:

Consult with one of our locksmiths to make sure the smart lock is suitable for your current home locks
To be on the safe side, consult with one of our locksmiths beforehand just to make sure that the smart lock you wish to be installed will work with the type of lock you have. All of our technicians are up to date and fully trained with all the latest smart lock technology and can advise you on what will work best for you. We recently gave our professional smart lock review of the top 3 smart locks on the market