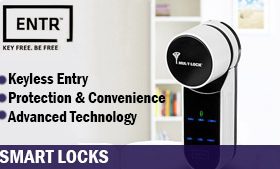 Smart locks are becoming increasingly more popular due to the convenience they offer. With a smart door lock you can't get locked out and you don't have to worry about getting keys cut and you can control access to your home remotely via your smartphone. Some of them can also connect to your home automation system enabling you to do even more smart stuff, like sending your thermostat into energy saving mode through the signals your smart phone sends to your smart home system, to let it know you're away.
If your kids come home from school early or the electrician has shown up and there is no one there to let him in, the smart lock lets you allow someone into your home even when you're not there. Smart locks/iphone door locks work mainly with the Bluetooth in your phone and some have the option to connect via the Wi-Fi in your home. Wi-Fi door locks generally have more features but due to them being constantly connected to the web are slightly less secure than Bluetooth only smart locks.
One product to look out for is Google's Home Automation which is due to be launched by the end of the year. A rival for the Amazon Echo, this clever piece of technology with high quality speakers and a microphone will be able to detect your voice from across the room and answer your questions and will enable you to control your smart home automation devices through your voice commands.
Entr Lock
The Mul-T- Lock Entr has everything that a smart door lock has to offer. No need to worry about losing your keys, getting locked out or having to change your locks again. The great thing about the Entr Lock is that you have a few options for how you gain access to your home. You can choose between using your smartphone, touch keypad, remote control or a fingerprint touchpad. You can
even stick with using the good old fashioned key if you wish.
It also has the added advantage of being easy to install without the need to drill, it's wireless and compatible with most doors, making it easy to turn your door into a smart door. You can control who is able to go in and out remotely from your phone or a tablet and access can be granted as and when is needed. For example you may need to let the cleaner in every Monday at 2 pm or perhaps you are expecting your local plumber to come at a certain time or you're expecting guests to make an appearance. The beauty of the smart lock is that you don't need to be there to let guests in.
Yale
I'm sure you've all heard of Yale, one of the oldest leading brand of locks in the UK. Well now they've tapped into the world of smart homes with the Yale Keyless Connected Smart Lock. This
keyless door lock has everything you could possibly need in a lock and more. You have the options to enter your property via your smart phone, key fob or a touch screen; whichever is most
comfortable.
Making your home a keyless entry home is simple since it's a completely wireless door lock and battery operated and fits most 60mm night latches meaning that installation is easy and convenient.
The touch pad has a backlight, making it easy to use at night time. It's easy to programme with a 4-10 digit pin code and you have the option of entering a separate temporary 24 hour visitor code, so you won't ever have to give your PIN code out. You'll never have to worry about using or cutting keys again or even getting locked out; since all you'll need to do is connect to your smartphone or you can use either the key card or key tag that's included with it to get yourself back in again. You can have a mix of up to 20 PIN codes, key cards and key tags; so there's plenty to go round for friends and family.