Commercial vehicles are often a prime target for burglars – secure your vehicle with professional van lock installation from one of our vehicle locksmiths.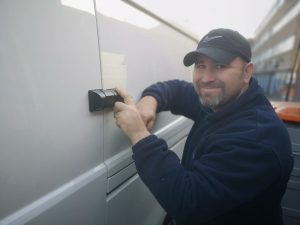 Because of the valuable tools and equipment often stored in them, commercial vehicles are commonly a prime target for burglars. Having your van broken into could prove detrimental to your business, so it's essential that you take the correct measures to ensure that your van is fully secured. Our van locksmiths can provide van deadlock installation near you to keep your vehicle protected.
Enhancing Security with ProtectAVan.

We offer a host of products to help you enhance your van security locks! We proudly use ProtectAVan's high quality products in our van lock installations! Our van locksmiths can install a wide selection of van security locks and security products for vans, including: British Standard Deadlocks as well as LoomGuards, Armaplates, ProtektaPlate by ProtectAVan, Ultimate, and Handleguards. We also supply and install ProPlates which protect the area around the door handle that is often targeted by thieves. Another popular ProtectAVan product for van lock security that our vehicle locksmiths can install are SlamHandles which help prevent the van handle from being removed, a popular technique used by thieves. Any of these high quality security products can be included as part of your van lock installation.
Protect Your Van Locks from Human Error

It's very common for van locks to be left unlocked by mistake, giving an open invitation to thieves. Slam locks prevent this from happening by automatically locking your vehicle once the door is closed, giving you total peace of mind. Access can only be gained again by using the correct security key. If this is the type of van lock installation you're looking for, we can help!
Van locksmiths you can trust and rely on – 6 month warranty and free expert advice
All of our products come with a six-month warranty and a service check if required, as well as exceptional after sales service. We offer a free consultation and quote for your van security locks, with no obligation. If you would like more information about van deadlock installation near you, our expert vehicle locksmiths will be happy to advise. Call us today to see how we can help you keep your vehicle secure!
For more information on van locks, see our helpful YouTube video: